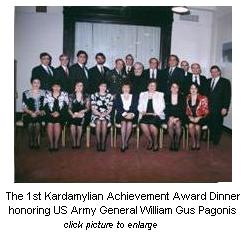 In 1992 the METROPOLITAN SOCIETY OF KARDAMYLIANS established the KARDAMYLIAN ACHIEVEMENT AWARD
to recognize the success of fellow Kardamylians or Friends of Kardamyla who have excel in Science, Arts, Business or have contributed to the common good.
The Award is presented in memory of St. Nikiforos of Kardamyla whose wise words remain the essence of the Award:
"A DISTIGUISHING CHARACTERISTIC OF EVERY MAN WHO POSESSES THE VIRTUE OF MORAL WISDOM "PHRONESIS" IS TO TAKE CARE NOT ONLY FOR HIS OWN BUT ALSO FOR THE GOOD OF OTHERS"
"ST. Nikiforos of Kardamyla"

The recipients of the Kardamylian Achievement Award
1st
1992

US Army General William Gus Pagonis,
Led the US Army Supply Command during the Gulf War.
2nd
1993

Dr. Nicholas Parlamis,
Chief of the Department of Surgery at the Lutheran Medical Center, New York
3rd
1994

Dr. Nicholas E. Madias
Chief of the Division of Nephrology at the New England Medical Center, Boston
and
Dr.John E. Madias
Chief of the Division of Cardiology at the Mt. Sinai - City Hospital Center, New York.
4th
1995

George Chimplis
Industrialist and Philanthropist
5th
1996

John G. Rangos Sr.
Industrialist and Philanthropist.
6th
1997

George P. Livanos
Shipowner and Philanthropist
7th
1998

George and Calliope Vafias
Two of the Founders of our Organization
8th
1999

Michael S. Tsevdos
Past President of our Organization
9th
2000

Captain Takis Tsevdos
Shipping Executive
2001

10th
The Ladies of the Chiaki Adelphotis Aghia Markella, Brooklyn
Philanthropic Organization
11th
2003

Adamantios Lemos
Stage actor, director.
12th
2004

Captain Panagiotis N. Tsakos
Shipowner and Philanthropist
13th
2006

Markos P. Madias
Past President of our Organization, Writer
14th
2010

Captain Nikolaos I. Frangos
Shipowner and Philanthropist

15th
2016

Markos K. Marinakis
Past President of our Organization. President of the Kardamylian Foundation.